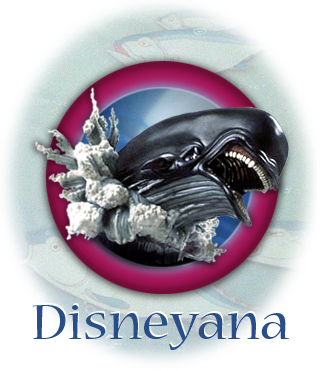 Disneyana was a time of seeing old friends, attending seminars and buying exclusive Convention merchandise. This merchandise was represented by some of the more famous collectible lines .. Armani, Lenox, Goebel, Robert Olszewski, Waterford, Goebel, Harmony Kingdom, Ray Day to name a few. In 1996, the Walt Disney Classics Collection had their first Disneyana offering .. Pongo, from '101 Dalmatians.'
Pongo was available with a special Convention backstamp, and then released in November 1996 along with Perdita and their puppies as an open edition release.
In 1997, Walt Disney Art Classics released Chernabog as that year's Convention release and made the piece exclusive to the Convention and did not release an open edition later as they did with Pongo. This is the format they've followed since. From 1997-2001, all Walt Disney Classics Collection offerings were from the classic films. In 2002, WDAC broke this trend and offered the first Disneyana release from a Theme Park Attraction - Mr. Toad's Wild Ride! 2002 was the last year of Disneyana.
This section of the website only covers the Disneyana featured sculptures that are part of the Walt Disney Classics Collection.