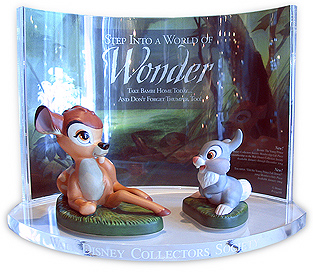 Walt Disney Art Classics created an acrylic 'Point of Purchase' Display (pictured above) for authorized Walt Disney Classics Collection dealers
to display the 2004 Bambi Member Gift and 2004 Thumper Instant Redemption Sculpture (separate purchase available to members only).
This display recreates the Walt Disney Classics Collection cover photo on the 2004 Catalog. The back is curved and the background image
slides in and can be removed and the base has Walt Disney Collectors Society inscribed on the front.
This display was only available to authorized Walt Disney Classic Collection dealers for 'display purposes' only.